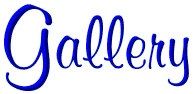 Be welcome visitor,
I invite you to stay and to take a rest from your travel around the world wide web.
Choose among the following gallery areas.
If you want to see more details on one pic, then click on it.
Take a rest, delight at the pics and travel on, if you think it's necessary.
---
---
Hint:
The copyrights of all published pictures here are mine, that means that copying of my pictures is not allowed.
---
---
| | |
| --- | --- |
| | adapted: March 25th, 2012 |